In celebration of selling over 3 million copies of its critically acclaimed medieval role-playing game Kingdom Come: Deliverance, Warhorse Studios is introducing a new corporate logo. The design represents the strong and dynamic qualities of the team while remaining true to the origins of the company; the same counts for the combined glyphs HO in the word WARHORSE, inspired by medieval inscriptions.
Find the new logo, artwork, and manual here.

Two years after the release, the award-winning RPG Kingdom Come: Deliverance has sold over 3,000,000 copies and in excess of 1,500,000 DLC's across all platforms (PC/PlayStation®4/Xbox One). Warhorse Studios is celebrating this important milestone with an exclusive Steam Free Weekend from 18 – 22 June to widen its audience even further.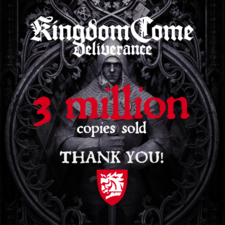 Warhorse Studios in numbers:
2011 Warhorse Studios is founded
2012/13 Warhorse establishes itself as a developer and starts to work on first KCD prototypes with 15 colleagues
2014 Kingdom Come: Deliverance celebrates a successful Kickstarter campaign with 35,384 Backers and £1,106,371 raised.
2015/16 Over 80,000 people played the first Alpha/Beta version of KCD giving valuable feedback.
2017 Warhorse Studios and Koch Media / Deep Silver agree on a worldwide distribution deal.
2018 Kingdom Come: Deliverance made by 110 developers releases on February 13th and sells over 1 million copies within the first month.
2018/19 Warhorse Studios wins over 40 international game awards and releases 4DLC's and several free extensions.
2019 One year after its release, Kingdom Come: Deliverance sells over 2million copies. Koch Media/Deep Silver acquires Warhorse Studios.
2020 KCD sells over **3 million copies** and 140 developers gather their forces for what lies ahead…
Starting to work on a new unannounced project, Warhorse Studios is now intensifying its recruitment to grow into a team of up to 180 people within the next year.
"Audentes fortuna iuvat" – Fortune favours the bold.